Для полноты картины можно и сюда перенести инфу =))





VA - Good Vibrations (3CDs)(2017) -

Yggdrasil Records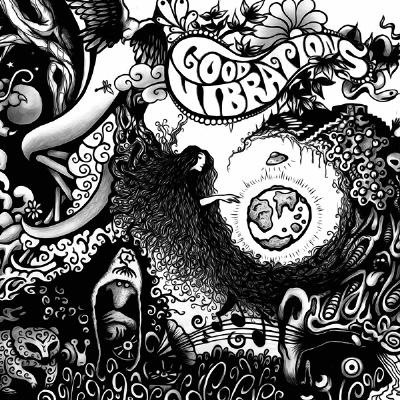 Hold your horses! Yggdrasil Records, Good Vibrations Organization and friends around the world are happy to present the next YggdraBrew - a triple CD compilation with psychedelic and experimental music ranging from forest trance to electronic beats, acoustic dub and improvised space-rock: The Good Vibrations Compilation! Good Vibrations Organization is an underground movement in Norway that originated in the early new millennium and reached its peak with the 2010 edition of the epic Open Source @ Hesjerocken Festival. Creativity was flourishing and incredible efforts were manifested on all sides, including extensive lineups with innovative underground artists that are considered classic forest musicians today. T his release is fully funded by Good Vibrations and this is our homage to the organization's legacy, the music, the people, and the magical forest surroundings, so with this - we hereby present a varied collection of music and sounds, featuring artists and live bands that has a close connection to the label and the organization. Forest culture in Scandinavia is more than just music, it's a lifestyle. Recycle, keep the forest clean, and the mind open! It is a unique gathering of nature loving tribes . We hope you like it.
CD 1
1.Molokow - Blue moon
2.Storskogen - Liten grej
3.Ratatoskr - Haluuserorganiske sorte hull
4.Ghostscent and Inzect - Due to dew
5.Sonix Madnezz - Moving on (Instrumental)
6.Six Fingered People - Fine as a frog's hair
7.Nge Duo - According to the accordion
8.Pallida - Le mécanique du l'e´rotique
9.Unknown Cause -Proper chemistry
10.Kurbeats - Jossie the traitor

CD 2
1.Kaabel - Future weather conditions
2.Purosurpo - Tripsense
3.Inzect - Dropsy
4.Zoolog - Flat earth
5.Hutti and Uttu - Midnight moose
6.Taakelur - Yggdra Spa and Velvære
7.Loke - The humming hymn
8.Noizebug - Get down n' get bizzy!
9.Freeform Syndicate - Geronimo
10.Fragletrollet - Origins

CD 3
1.Hutti and Uttu - The crack of thunder
2.Derango - We are all mad here (Inzect Rmx)
3.Hutti and Uttu - The dude in orbit
4.Hallucinogenic Horses - Mr. Ed
5.Hutti Heita - Chapora agora
6.Loke - Jack in the box
7.Hallucinogenic Horses - Open sourcerer
8.Procs - Fladderosofen
9.Freeform Syndicate - Spaghetti freakout
10.Freeform Syndicate - Twilight turkeys
11.Freeform Syndicate and Friends - Slipp høna løs


Release Date: 29.09. 2017
Превью